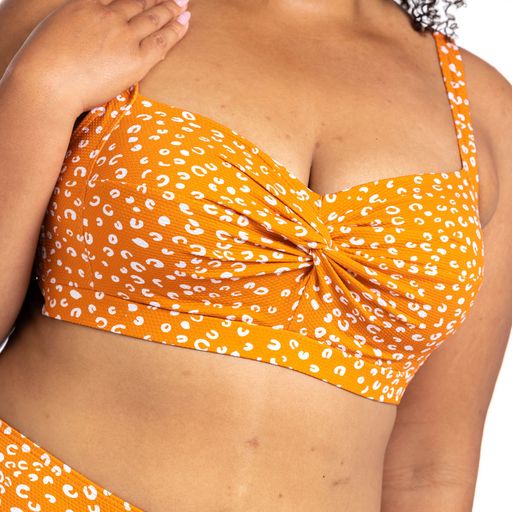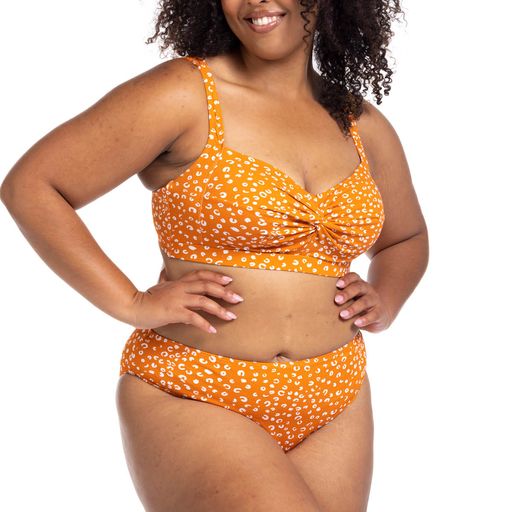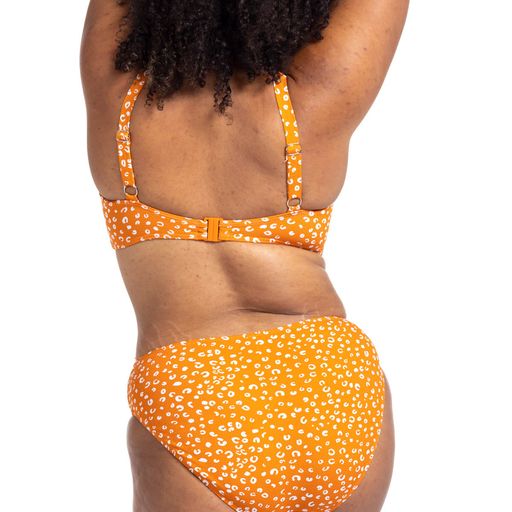 Copper Che'Tah Botticelli Top
Description
Artesands Fits Your Curves. Be sculptured by our Botticelli bikini top that is designed to sculpt your curves. Our Botticelli styles offer wire free comfort and support. This style has a loop front twist detail with multifit cup support that fits a C Cup, D cup , and DD cup. The sewn in cup has a powermesh surrounding so it can fit a larger or smaller cup.

Fits cup sizes C - DD - Our Botticelli curve fit and plus size bikini top shape can fit a variety of different cup sizes due to the multifit cup design feature. It is a soft foam cup that is sewn into the powermesh of the swimsuit allowing for extra stretch and support. Depending on breast tissue it can fit a larger or smaller cup.

Multifit moulded foam cups - This curve fit swimsuit has soft moulded foam cups sculpt and shape to your body to create a perfect fit with wire free comfort and support.

Wirefree comfort - This swimsuit is one of our wirefree comfort styles with bust support offered through the swimwear construction and fabrications.

Convertible wide shoulder straps for extra comfort and support

 

- All of our wide straps are supported with strong rings and sliders to avoid any breaking or rubbing, the wide straps sit flush on the shoulder without the discomfort of digging in. This curve fit swimsuit also have the added adjustability of our strap clip technology.

Loop twist front design - Our Botticelli bikini top has a loop through detail at the centre front.

Soft touch, high stretch swim fabric - All of our fabrications are an amazing soft touch fabrication with high stretch for support and comfort.

Strap clip technology - The strap clip is located on your back shoulder blade and allows you to cross over the straps. The benefit to this technology is so you don't get any neck or shoulder pain and the straps won't ping off from pressure over time. You can tailor your own fit by using the new "Strap Clip" technology, to unclip and cross the straps for extra support.

Strong Back Clip - Our curve fit bikini top has a solid plastic back clip. This secures the bikini top on the bust and gives extra support.
Find the perfect fit - A bikini is the perfect option for full coverage when you need a different size top and bottom.
Looks Great With:
Fabric:
Made of nylon and elastane.